The September Syrah Harvest
Published on: Sep 18, 2019
At Wine Tree Farm we grow three different Rhône varietals, Syrah, Grenache and Mourvèdre.


As we explained in the
August 2019 blog
, grapes are harvested when their sugars reach a specific level. Of course Mother nature doesn't make things easy as each of these varietals reach the brix to harvest them, at different times. Syrah is always first and Grenache and Mourvèdre trail behind by several weeks. Because Grenache and Mourvèdre ripen around the same time we usual wait so we can harvest both at once.
We start harvest early in the morning, before the sun wakes up. Notice the tail lights on the ATV hauling up an empty picking bin.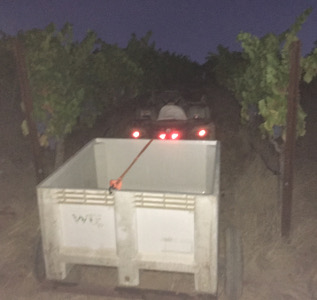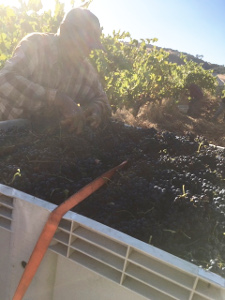 This year our labor contractor sent us FOURTEEN pickers! Normally we only have 6-8, so we had to scurry and improvise to keep things moving smoothly as the bins loaded with picked grapes were arriving at nearly twice the regular pace.


It was a challenge and of course there were some Oopses. The pickers picked one row of the wrong grapes, wo we wound up with two bins (~1 ton) of a Syrah/ Mourvèdre field blend! Then we ran out of bins, so we left some Syrah grapes to harvest along with the Grenach and Mourvèdre.


​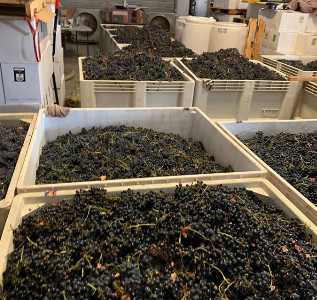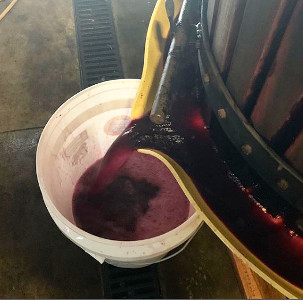 In all we harvested 13 bins Once the grapes were picked we ran them through our crusher de-stemmer and then left to ferment (primary fermentation). Primary Fermentation went smoothly and we were able to press within a little over 1 week. See the nice dark red of Syrah above compared to the lighter almost pink color of the Grenache below.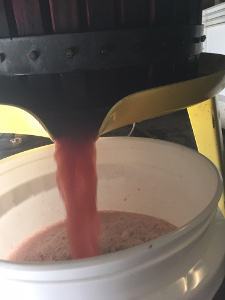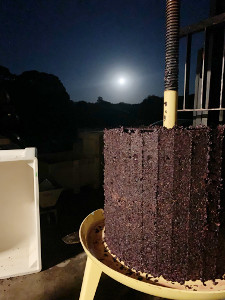 What you see in the picture on the right above, is the remnants of grape skins after pressing to extract all the juice. It's a solid mass and it's called a "cake". Not anything you would eat though. We took the beautiful harvest moon shining over the cake of Syrah grapes, as mother nature smiling upon us for job well done!