Marley Rosé
Published on: Jun 17, 2021
Marley Rosé - the Second Wine in our Animal Series
Wine Tree Farm is an animal friendly winery and vineyard. Both Nic and Corinne love and care for animals, which range from: cats, dogs, sheep, horses and goats.


This year we decided to continue the animal theme and are dedicating our new Rosé release to "
MARLEY
".
Marley is one of our long time greeter dogs who greets visitors with a friendly "Woof", her signature voice and this has now become her nick name. Sadly Malrey passed away in August, 2022.


Otis was our very first Wine Tree Farm greeter dog
Cats and Dogs have always been part of the Moore family. As Nic grew up it was only natural for him to inherit his family's love and care for his four legged siblings.


Thus it was no surprise that after the passing of "Otis" Nic's beloved dog, and our original winery dog, Wine Tree Farm, named one of its 2020 blends "OTIS" in his commemoration.


An Animal Friendly Working Vineyard and Winery
Everyone pitches in to get things done. That means the animals have their chores.


Geo the cat keeps rodents at bay, Marley, Epi and Timber are the doorbell and greeters, and the sheep in the vineyard are our weed eaters.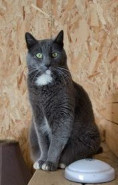 Geo the Cat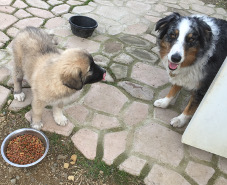 Epi, as a puppy and Timber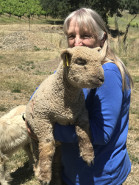 Corinne with one of our Sheep
More Animal named Wines to Come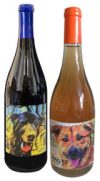 OTIS & MARLEY
We've decided that we'll continue our ANIMAL series with releases from time to time, dedicated to one of our farm animals. As we have many animals, you'll see them on future wines.


But not all Animals are Treated Well
Although we love and care for our animals, there are many other animals who are in need of care and protection. That's why we contribute to and support A-PAL
"
An Alliance for the Animals
"
in Amador County.
The A-PAL Humane Society of Amador County, has as it's Mission Statement "to ensure the humane treatment of animals in the communities we serve".


Their goals are:


To end euthanasia of homeless dogs and cats in Amador County


To increase public awareness and acceptance of responsibility for animal welfare


To place homeless animals in good homes through aggressive adoption and foster care programs


To raise funds to finance spay/neuter programs in Amador County


To end inhumane treatment of animals in Amador County


To support legislation encouraging humane treatment of animals


We applaud the great work they are doing in Amador County, so we're donating $1 to A-PAL, for every bottle of our animal blends that we sell.