Busy October
Published on: Oct 21, 2019
It has been a very busy October 2019! We picked our last zone of grapes – Mourvèdre, It was Epi's First birthday, and we released our Fall Wine Club Wines!


-Mourvèdre The Final Harvest-



-The Fall Pick-Up Party-


Epi's Birthday is October 14th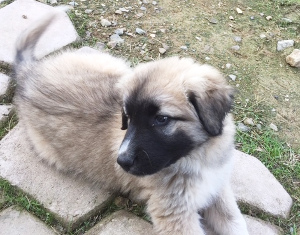 Epi our "mini-sheep" guard dog, was born on October 14th.


If you were wondering about the name "Epi", its short for Epimeliades, which is Greek for the nymphs of mountain meadow pastures, once thought to protect wandering herds and flocks. Epi is a half-Grand-Pyrenees, half-Anatolian-shepherd breed.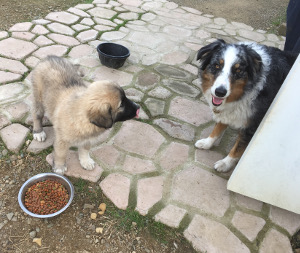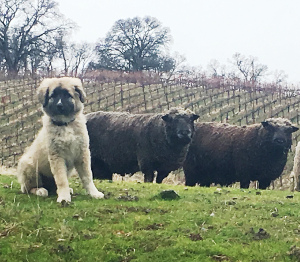 Epi came to Wine Tree Farm December 14 2018, while she was still a very active and playful puppy. She grew up very quickly and was 70 lbs on her 6 month anniversary. She is now around 100 lbs!


She has a beautiful personality and loves to play, like most puppies, but she is so big she doesn't look like a puppy. She especially loves to play tug-o-war with Timber.


Her demeanor is calm – she basically sleeps most of the day and is awake most of the night – doing her guarding duty


Epi is not food motivated at all – so trying to train her using treats doesn't work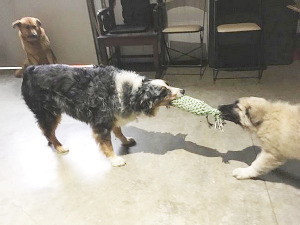 She loves her sheep, but still wants to play with them, which they don't understand. But she is never aggressive with them and over time we expect her to become more mature and familiar with her guard dog duties. We'll  update you on her 2nd birthday.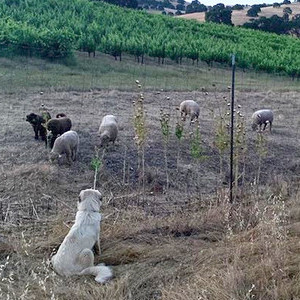 The Final Havest: Mourvèdre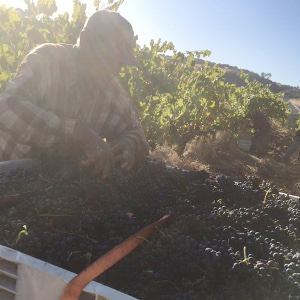 Sometimes mother nature give us a break and the sugars of two varietals hit the level to harvest at the same time. Not so this year! We picked Syrah and Grenache at two different times in September and our Mourvèdre was picked October 16th.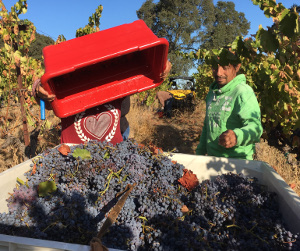 Harvest starts as soon as the sun rises and is a logistical challenge delivering bins laden with picked grapes from the vineyard to the crush pad, while making sure the pickers have empty bins. Nic manages the crushing and has several days of work, after the picking, crushing and de-stemming all the grapes


It was a good harvest, so we're looking forward to offering some great wines from this years grapes.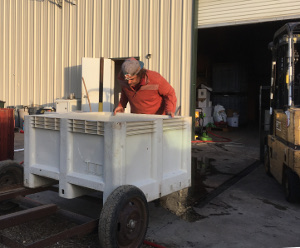 The Fall Pick-Up Party willbe in October
2017 Syrah
Save that date! Our Pick-Up parties go from:


Noon to 4:00 PM.


(RSVP's appreciated – 209-783-5049 or corinne@winetreefarm.com)


We'll be releasing two new wines.



2016 SyrGreMour